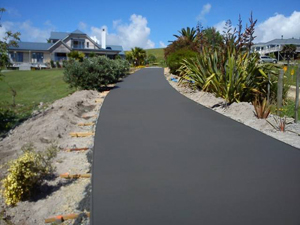 Welcome to Solid Concrete Ltd
-
the specialists in preparing and laying concrete
If you are needing concreting done then you have come to the right place.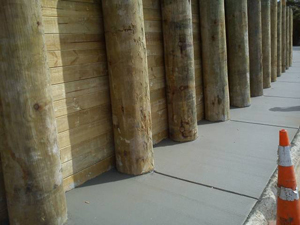 I have been a concrete layer for over 15 years and specialise in all concrete work - preparing, placing and cutting.
The team at Solid Concrete can offer any sort of finish to a very high standard. I can organise absolutely anything concrete, plus any of your other building requirements including excavating, drainlaying, plumbing and landscaping.
Contact me NOW for a free measure and quote so your job can be completed as soon as possible.
Ph: 021 024 48704
A/hrs: 09 945 0041 (Wellsford)
Check out here for photos
Check out here for testimonials
"We engaged Solid Concrete Ltd to concrete our driveway at our new property in Scotts Landing. The driveway included concreting to the garage and extending up a steep bank, involving several curves. The water run off from the drive was critical and they got it exactly right. It was no easy task.
We were thrilled with Mark's expertise and dedication to ensure we had an excellent product on completion. Following this we decided to engage Mark again to continue the driveway around part of the house and under a carport where originally we were going to have gravel. Once again the job was done with expertise and the quality of exposed aggregate finish is outstanding.
Mark and his team are a delight to work with. They are professionals, extremely hard workers, arriving when they say they will, completing the work as promised on time and on budget.
I would highly recommend Solid Concrete Ltd" - Annette Anderson
"I work with good tradespeople every day as part of my job but Solid Concrete has exceeded all of my expectations. * Oustanding results on the concrete job * Excellent communication every step of the way * A willingness to coordinate subtrades and related quotes * Took responsibility to manage underperforming subcontractors * Fantastic professional manner in every aspect Contractors like these are a rare breed and I will be passing on my recommendation to use Solid Concrete at any given opportunity!!"
Rating by: Cara | Communication: 100% | Quality: 100% | Reliability: 100% | Value: 100%
"Just had our third concreting job done by Mark and his team at Solid Concrete. They are always a pleasure to deal with, tidy up after themselves and do a fantastic job. Thanks Mark, Phillip and Stanley"

Rating by: Diane | Communication: 100% | Quality: 100% | Reliability: 100% | Value: 100%
"Very friendly - fantastic to deal with and went out of his way to ensure the job was exactly as we wanted."

Rating by: Diane | Communication: 100% | Quality: 100% | Reliability: 100% | Value: 100%